As an expression of gratitude, the Church of God held a Police Appreciation Cookout for law enforcement members. On September 25, from 2 p.m. to 4 p.m., 50 volunteers from Virginia and DC came together to organize the cookout. They invited Fairfax County police to enjoy a slate of BBQ food at the Sully District Police Department in Chantilly, VA.
The Police Appreciation Cookout is part of the Church's multi-state East Coast Volunteer Service Day. On this day, hundreds of volunteers simultaneously participated in 25 different activities along the East Coast. Volunteers from the Church's locations in Puerto Rico and the Dominican Republic carried volunteer initiatives as well.
The volunteers from the Church of God in Virginia and DC set up tents in the parking lot of the Chantilly police station. There, they hosted a cookout accompanied by some outdoor games and music. Furthermore, they barbecued handcrafted hamburgers and served homemade potato salad, baked beans and police officers' all-time favorite dessert—donuts. The officers thoroughly enjoyed every morsel.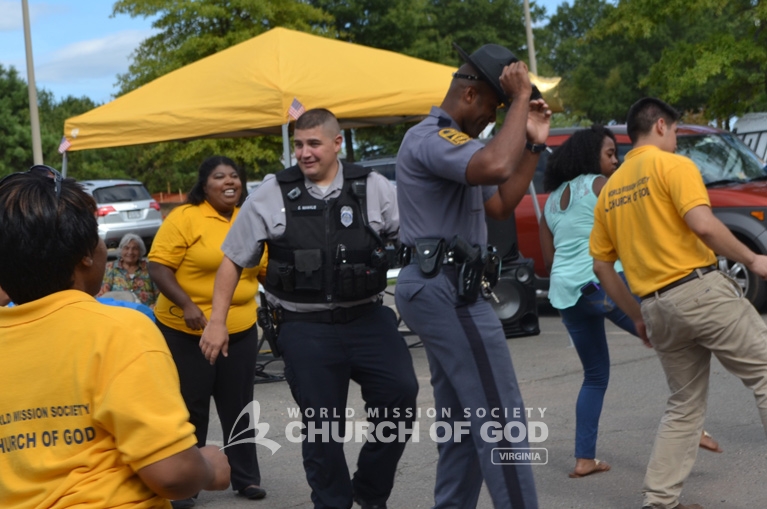 Officers from the Fair Oaks District Police Department and the Virginia State Police Department also attended the cookout. In total, about 30 Fairfax County and Virginia State police officers stopped by and grabbed a plate. They also competed in cornhole competitions, and even had a dance contest to the electric slide. Unexpectedly, a few police officers showed that they have rhythm too.
Additionally, the volunteers prepared and delivered 14 lunch to-go boxes to the Fair City police officers on duty. Such consideration greatly moved the officers unable to attend the cookout because they were still working. Moreover, the Church of God presented the participating police departments with appreciation plaques for serving their communities. All in all, it turned out to be a beautiful day for Fairfax County police to receive the appreciation they deserve.