It's the end of summer and the long Labor Day weekend is a time for vacation and relaxation. Yet volunteers from the World Mission Society Church of God in Virginia chose to dedicate a portion of their holiday to show appreciation for firefighters across Fairfax County in Burke. Firefighters sacrifice themselves to serve and protect the communities of Virginia every day without expecting recognition.
The meal preparation began Sunday evening. Chicken, cilantro-lime rice, salad, cookies, bottled water and a pinch of mother's love. A team of members prepared nearly three dozen of these home-made meals putting them into lunch boxes. The meals also came with a framed letter of thanks from the Church of God to the four local fire stations across the County—Burke, Centreville, Fairfax and Springfield.
The first stop was the Burke firehouse. The firefighters were so moved by the lunches that they gave the volunteers a tour of the station. As one of the firefighters explained, people usually only visit the fire stations to entertain their children or take a tour. But rarely do people stop by to spend time with the firefighters and thank them for their hard work. The volunteers' gesture even brought him to tears as he thanked the Church of God.
Next was the Centreville station. When volunteers arrived, the firefighters were outside the station raising funds for the Muscular Dystrophy Association, which provides children with crutches and wheelchairs. The lunches were like the perfect delivery.
The West Springfield station was the next stop. The firefighters were grateful to the members as they wished they could always have such calm and peaceful moments at the station. The last stop was the Fairfax station, where the firefighters warmly welcomed volunteers with smiling faces.
Though it seemed like a small gesture, even Fox 5 DC covered the news. Hoping to encourage more volunteerism in our communities, one of the volunteers explained the purpose behind their community service.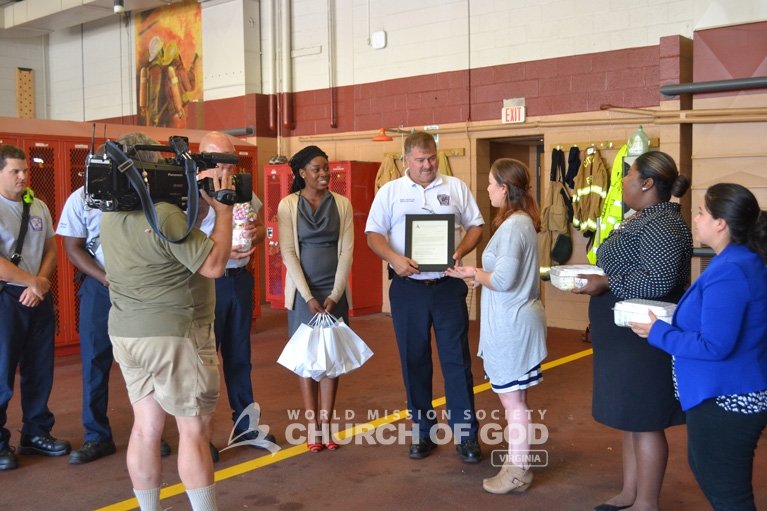 "I was just very grateful to see how much effort the members of the fire departments make for their communities," said Brittney Drake, a Church of God volunteer. "I'm thankful for this opportunity."
Church of God volunteers began planning in early August. For a month, they worked with fire houses to identify the best time to visit, what meals to prepare and how many lunches to pack. Volunteers were hopeful that the firefighters felt Mother's love through the home-cooked meals.